Throughout history, humanity has pursued to make daily life easier. From the invention of farming & the wheel to Ford's production line & computers, we continually seek to improve our lives by automating processes. However beneficial, these transformative discoveries can be worrisome for business owners & employees, for when outdated methods are replaced, the people who performed them often become displaced in the process. But, as history has shown us, these life-changing inventions will actually create more opportunities & elevate the quality of life.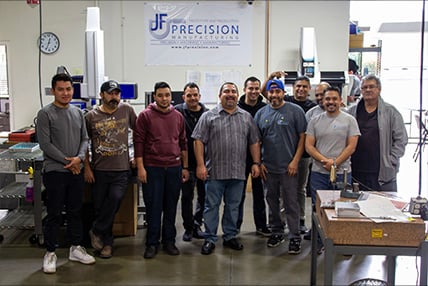 JF Precision is a Manufacturing Job Shop in Santa Clara, California, known for quick turnaround and short lead times. They serve the medical, defense, automotive & microwave frequency industries and offer CNC machining, sheet metal fabrication, 3-D printing, CMM inspection & assembly. Founded in 2003 by Jose Fernandez as a part-time gig with just one machine, JF Precision now has 22 employees with eight machines and runs two shifts, five days a week.
Despite producing parts 16 hours a day, they could not keep up with demand or take on more work. This was something the self-made Fernandez would not allow. Starting his career in CNC manufacturing when he was 19 and working his way from the bottom up, Jose learned that if you are not improving & growing every day, you will not last – he had to increase JF's machining capabilities and do it fast.
When faced with the problem of needing to increase CNC part production, the typical response by manufacturers is to add more CNC machines. This, however, is easier said than done. Because you're not just adding a CNC machine, you're also adding another hard-to-find employee. On top of that, you must have floor space available to install the equipment. In the congested Silicon Valley of California, these two issues are amplified and played a significant factor in JF Precision's decision to evaluate automation rather than just purchasing another spindle.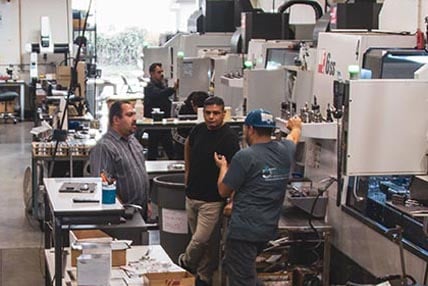 JF Precision is not your typical shop, and Selway Machine Tool Co is not your typical CNC distributer. "Someone from Selway visits us 2-3 times per month to check in and make sure we are aware of the newest technology…thanks to them, we are improving," stated Jose. One of the new technologies implemented at JF was the Trinity AX2, a side-loading automated pallet system for small to medium CNC machines. The AX2 was field installed on JF's existing Haas UMC-750 and turned it into an automated 5-Axis production system. They could now finish an entire part in one operation using 5-axis technology and repeat that process with little operator intervention through the palletized automation of the AX system. Not only that but by decreasing set-up time via stored workholding on pallets and eliminating idle time between part loads, the spindle utilization on their vertical machining center could be increased from an industry average of 30% to 95%.

Jose knew that improving his spindle utilization was the fastest way to increase productivity and grow JF Precision, "If your spindle is turning, you're making money," he stated. But continually adding more spindles didn't make sense as they would eventually have to relocate to a larger, more expensive, hard-to-find building or move out of the highly populated Silicon Valley all together. Moving out of the area or spending a premium for a bigger space was not an option; they had to maximize their existing floor space. All indicators were pointing toward the investment of an AX system, but Jose still had some concerns that were closer to his heart.


"We don't want a robot to replace our guys," Jose stated flatly. There was no way he would jeopardize his employee's livelihood, as the team at JF Precision was more like family than coworkers. So, he called up Preston Hill, the local Selway Machine Tool Company representative & voiced his apprehension. Preston then introduced Jose to several AX System users nearby to discuss their experience with the automated pallet system. "It's great to bring our customers to Trinity's Silicon Valley Tech Center," stated Preston, "but nothing compares to taking them to a current user ." Jose discussed his concern about his employees with the other business owners, "they told me you are not replacing anyone; you're actually gaining another 8-10 Hours a day, unsupervised, not taking breaks." Valuing the advice of his peers and trusting the guidance of his manufacturing partner Selway, JF Precision purchased a Trinity AX2.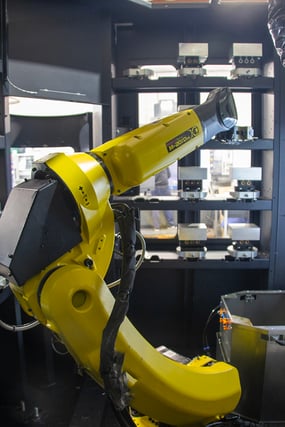 "We started using just two pallets," Jose said, "now we use 16 of the 24 available on the AX2". Immediately, JF Precision increased the spindle utilization of their Haas UMC-750 running unattended production during daytime shifts. This increased throughput allowed them to get creative with workholding/processes, and within a month, JF began to run unattended night and weekend shifts. They manufacture small prototype jobs of 5-10 parts during the day, saving the larger production orders for the night and over the weekend, "when we come in the morning, the parts are done; it's beautiful," remarked Jose. Increasing their output has enabled JF to take on work they had to previously turn away, including small quantity, quick turnaround higher-paid jobs.

The benefits of an automated pallet system don't just extend to unattended night and weekend production but also daytime shifts. Reducing the set-up time and idle time between part loads allows the machine operator time to do higher-level, more critical work. The AX System is "easy to learn and user friendly," said Jose "you don't program it. The screen asks you questions, and you just answer them.
You don't have to think about it…it pays for itself within a few months." With newfound time and the AX2's easy-to-use interface, six of JF's team members are already trained on the system. This has allowed Jose's employees to elevate their status, improve their skills, and increase their output.
At the time of this article, JF Precision is in the process of adding another AX System. They won't have to look for another building or add another spindle (and another employee to operate it) to increase their production capabilities. By adding the AX Automated Pallet System to their existing 5-Axis CNC machine, they have shortened their lead times, gained more revenue, and grown their business while not replacing any employees. Said Jose when asked how his team felt about the Trinity AX System, "my guys love it; it's a game changer."